You can get support after the acquisition of REDMINE-EVOLUTION theme. If purchase is already made, you can go to
your personal account
and contact us.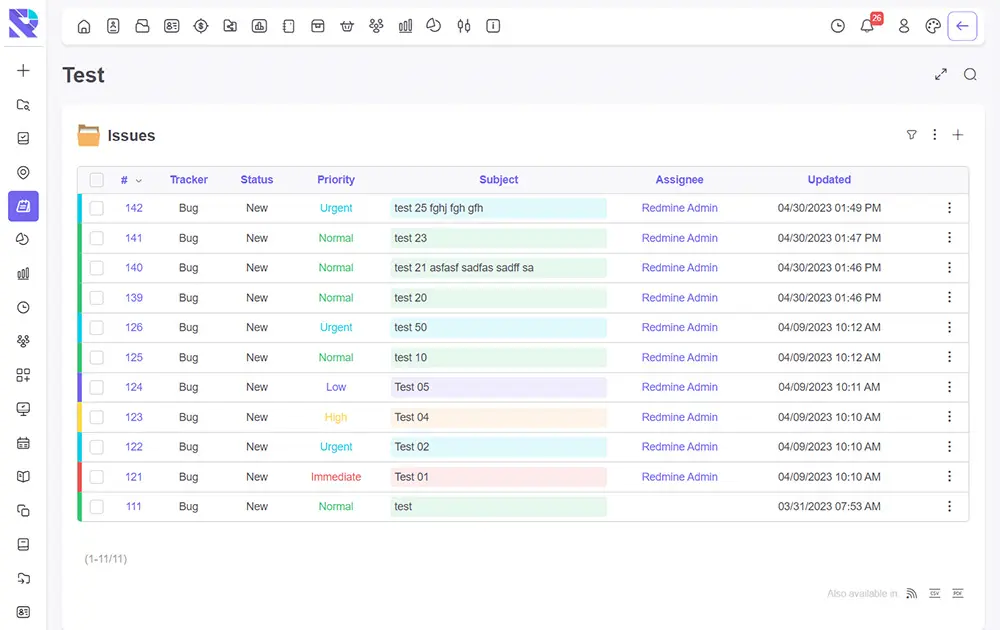 Redmine-Evolution is a powerful project management solution that extends the capabilities of Redmine, an open-source platform. To ensure a seamless experience and assist users in making the most of this feature-rich tool, a dedicated "Get Support" page has been established. This article explores the support options available for Redmine-Evolution users, highlighting how they can access assistance and resolve any challenges they encounter during their project management journey.
Knowledge Base and Frequently Asked Questions (FAQs):
The knowledge base and FAQs section on the "Get Support" page provide a repository of commonly asked questions and their corresponding answers. This resource acts as a self-help guide, allowing users to quickly find solutions to common issues without needing direct assistance. It covers topics such as installation, configuration, customization, and troubleshooting, addressing the most frequent queries encountered by Redmine-Evolution users.
Community Forums and Discussion Groups:
The "Get Support" page for Redmine-Evolution fosters a vibrant and helpful community through forums and discussion groups. These platforms bring together users, administrators, and developers to share their experiences, exchange knowledge, and offer assistance. Users can post questions, seek advice, and engage in discussions related to Redmine-Evolution, benefiting from the collective wisdom and expertise of the community.
Dedicated Support Channels:
For more complex or specific issues, Redmine-Evolution offers dedicated support channels. These channels, which may include email support, live chat, or ticket-based systems, allow users to directly communicate with the support team. By submitting a support ticket or reaching out via the designated communication channels, users can receive personalized assistance tailored to their unique requirements.
Professional Services and Consulting:
In addition to the support options mentioned above, Redmine-Evolution may offer professional services and consulting for users who require specialized assistance. This may include custom development, system integration, data migration, or training sessions. These services can be particularly beneficial for organizations with specific project management needs or complex implementations, ensuring a smooth and successful deployment of Redmine-Evolution.
Get support. Regular Updates and Bug Fixes: Redmine-Evolution is actively maintained and regularly updated to ensure compatibility with the latest Redmine versions and provide bug fixes and feature enhancements. The "Get Support" page provides information on new releases, including release notes, changelogs, and upgrade instructions. Redmine theme. Staying up to date with these updates not only ensures access to the latest features but also helps in resolving known issues and improving overall system performance.
The "Get Support" page for Redmine-Evolution is an invaluable resource for users seeking assistance in optimizing their project management processes. With a wealth of documentation, user guides, community forums, and dedicated support channels, Redmine-Evolution offers a robust support ecosystem. Redmine theme. By leveraging these resources, users can overcome challenges, maximize their understanding of Redmine-Evolution's capabilities, and achieve project management success.
Introducing RE-timer, the ultimate time-tracking plugin for seamless task management. With just one click, you can effortlessly start recording your time while working on any task. Say goodbye to tedious manual time entry and embrace the efficiency of this plugin.
In addition to its time-tracking capabilities, plugin provides quick access to tasks assigned to you. Stay organized and focused by easily accessing your assigned tasks, ensuring you never miss a deadline or overlook an important assignment. Redmine theme.
Maximize your productivity and streamline your workflow with RE Timer. Simplify time tracking and task management, allowing you to stay on top of your workload with ease. Experience the convenience and efficiency of RE Timer today.
Unlock the Full Potential of Redmine with Our EVO-Theme:
Visit our website to learn more about our EVO-Theme and how it can transform your Redmine instance. Experience the power of a visually captivating and highly functional interface designed to enhance productivity and collaboration. Contact us today to take your Redmine experience to the next level with our unique EVO-Theme.
You have the opportunity to try all our developments by requesting demo access to Redmine theme.
User-friendly interface. Full-responsive theme. The revolutionary design. Be effective and stylish. Try Redmine theme it yourself!
</div