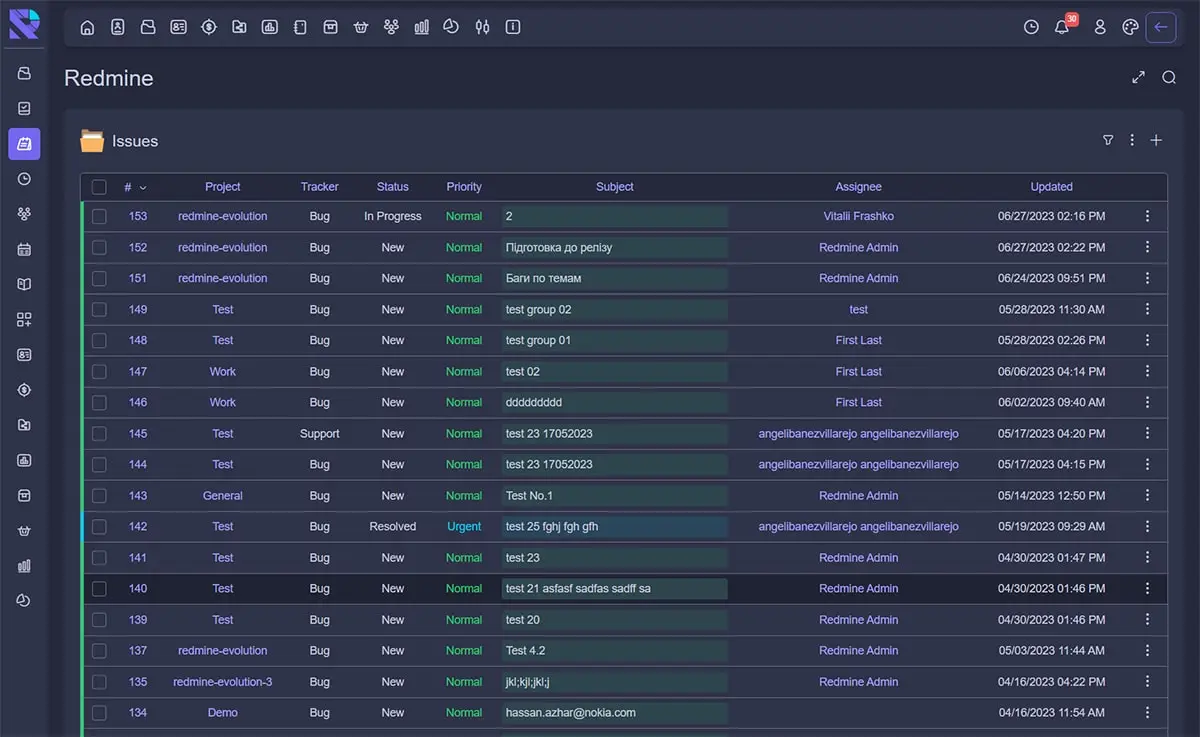 Changelog for RE-classic theme
Information about theme changes is posted on the Redmine website.
Redmine theme
If you have any questions about our Redmine theme, you can contact support.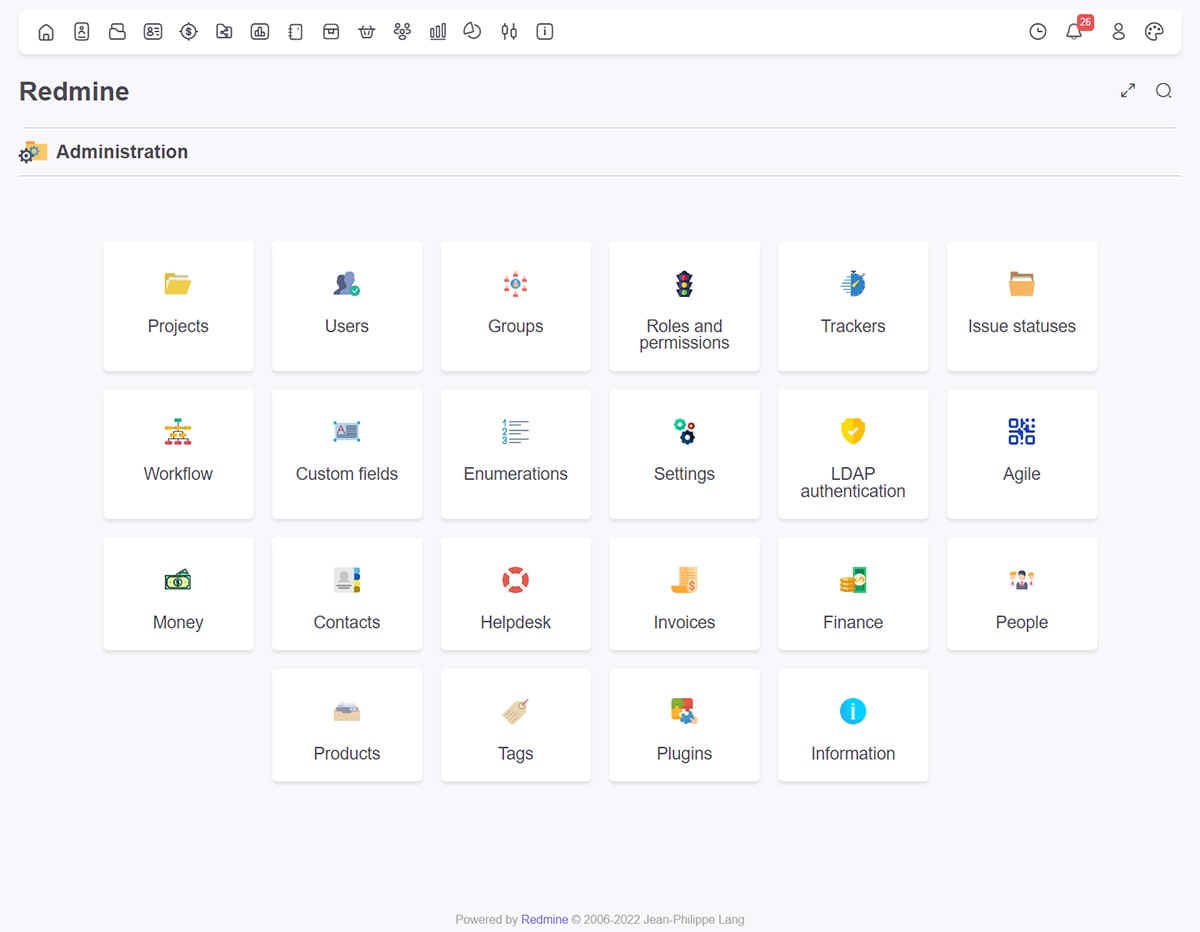 Redmine theme
Unlock the Full Potential of Redmine with Our EVO-Theme and Plugins:
Visit our Plugins page to explore our EVO-Theme and other valuable plugins. Our Redmine them is designed to enhance your Redmine experience, providing a visually stunning and user-friendly interface. Take advantage of our customizable solutions and unlock the full potential of Redmine for your project management needs. Achieve greater efficiency, collaboration, and success with our Redmine theme and plugins.
Redmine theme
Version 2.1.2 – March 09, 2023
Version 2.1.1 – March 01, 2023

Support for new plugins from RedmineX:

RedmineX Agile My Page plugin
RedmineX Gantt
RedmineX Statistics
RedmineX Resources
RedmineX Issue List Inline Edit

Fixed:

Version 2.1 – January 14, 2023

Support for new plugins:
Fixed:

Visual edits
Fixed scrolling errors of the menu in the sidebar

New developments:A function has been developed that allows each user to customize the color scheme and type of icons.You have the opportunity to choose:

One of the three colors.
One of the four types of icons.

Depending on the type of icon design, changes are automatically made to the boldness of fonts and the thickness of design decisions such as the thickness of borders and more.

Version 1.8 – December 15, 2021

Support for new plugins:

Plugin "Add note" – https://www.redmine.org/issues/3143

Added/Updated:

Plugin redmine issue badge
The ability to view pdf files
Search in the block – "context-menu"
The ability to small view the list of tasks
Visual solutions for "Time Logger plugin"

Fixed:

Menu adaptation
Changes to the sidebar function

Version 1.5 – January 16, 2021

Fixed bugs on the Wiki page

Version 1.3 – November 09, 2020

New block with search.
Changes have been made to the Redmine Agile plugin.
Support for new plugins:

dmsf
progressive projects list
periodictask plugin
time logger
ERPmine

Version 1.1 – May 08, 2020

Added comfortable image preview with Fancybox 3
Features with this version:

You don't need plugins!
Ability to preview pictures in the format "jpg, png, gif"
Works on all pages with attached files.
And even on the files page

Version 1.0 – April 15, 2020

Initial release
Compatibility with:

Redmine – from 2.6+ to 4.x. version
Browsers – Chrome, Firefox, Safari, Opera, Edge and Internet Explorer
Plugins – all popular plugins from RedmineUP company (with Standard + redmineUP packet)
Version 2.1.3 – June 27, 2023
Version 2.0 – August 22, 2022

Added new skins:

dark theme – Dracula skin
light theme – Classic skin, Purple skin

Updated:

Version 1.7 – July 15, 2021

Support for new plugins:

plugin Scrum – partial plugin support
plugin Release logs by Lazarus Lazaridis/@iridakos

Fixed:

Tooltips
Custom select 2

duplicate select
connection select

Plugins

booking from RedmineUP
fix positioning error
visual changes to paopap

Revision of pages – repository
Project levels – added nesting of projects
A lot of work has been done to fix minor visual problems.

Version 1.6 – April 18, 2021

Changed select (drop-down list) – by popular demand. Select with search and native scrolling.
An analysis was made of the page loading speed. Based on the data received, we redid the assembly of our product, which allowed us to optimize the theme loading speed by 25%.
Added support for two plugins:

Version 1.4 – January 13, 2021

Functionality has been implemented that remembers the state of the menu, sidebar, and block with the search.
And depending on this, it keeps it open or closed.
Some bugs have been fixed:

"Tag" plugin from RedmineUp
info button in the main menu
changed styles for the main menu

Version 1.2 – July 29, 2020

The theme is divided into 2 versions depending on the Redmine version you are using.

Added Fancybox 2 for Redmine from 2.6+ to 3.x version

Added support for plugins (with Standard packet and Standard + redmineUP packet):

Extra Queries plugin
A common libraries
Global Roles plugin
Unread Issues plugin
Additionals
Easy Gantt plugin
Easy WBS plugin
Redmine Issue Badge plugin
Redmine Issue Templates plugin
Redmine Messenger
Redmine Issue Tabs plugin